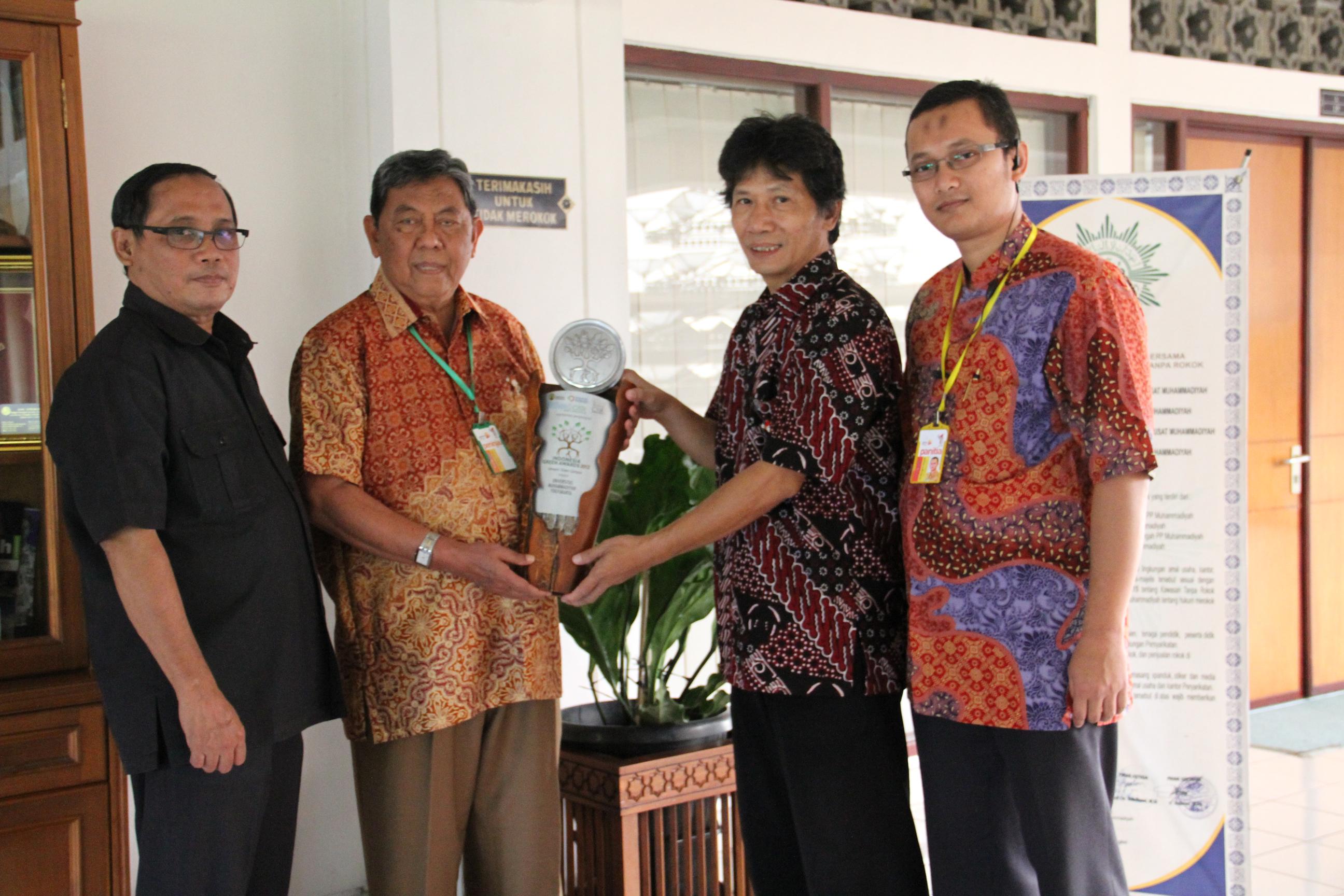 Untuk pertama kalinya Universitas Muhammadiyah Yogyakarta (UMY) mendapatkan penghargaan Indonesian Green Award (IGA) tahun 2012 dengan kategori Green Campus. Penghargaan ini diberikan langsung oleh Menteri Kehutanan Republik Indonesia Zulkifli Hasan,SE., MM. bertempat di Hotel Indonesia Kempinski Jakarta pada 10/7  lalu. Selain kategori Green Campus, beberapa kategori lainnya yaitu Green Media, Green Manufacture, Green Mining, Green Energy, Green Automotif, Green Pharmacy, Green Consumer Product, Green Agro Industry, Green Forestry, Green Banking, Green Insurance, Green Telecommunication, Green Real Estate, Green Transportation, Green Hotel, Green  Hospital, Green Province, Green Cuty, Green School dan Green Local Hero.
http://www.indonesiagreenawards.com/penerimaiga2012.php
Demikian disampaikan oleh Rektor UMY Ir. H. M. Dasron Hamid, M.Sc saat ditemui diruangannya di Kampus Terpadu UMY, Kamis (12/7). IGA merupakan bentuk penghargaan yang diberikan pada pihak-pihak yang memiliki komitmen untuk mengembangkan pelestarian alam yang berkelanjutan. IGA diselenggarakan oleh The La TOFI School of CSR bersama Majalah Bisnis & CSR dan mendapat dukungan dari Kemeterian Kehutanan dan Kementerian Perindustrian RI.
Dasron mengungkapkan penghargaan dengan kategori Green Campus yang diraih UMY ini merupakan kategori yang pertama kalinya di tahun 2012 semenjak IGA ini diselenggarakan mulai tahun 2010. "Kategori Green Campus merupakan kategori yang diberikan pada perguruan tinggi yang memiliki komitmen terhadap lingkungan, dan UMY melalui program Go Green Campus yang diresmikan pada Mei 2011 dinilai telah berhasil dan layak menyandang predikat Green Campus" ungkapnya.
Senada dengan hal tersebut Ketua Pelaksana Program Go Green Campus UMY, Dr. Gunawan Budianto menjelaskan penilaian ini dilakukan langsung oleh para pakar lingkungan melalui program-program yang telah berhasil dilaksanakan melalui bukti dokumen yang dikirimkan pada pihak penyelenggara. "Tim penilai merupakan para pakar yeng memiliki fokus terhadap lingkungan salah satunya Menteri Negara Lingkungan Hidup Alexander Sony Keraf, Ph.D dan beberapa pengamat lingkungan lainnya" jelasnya.
Gunawan juga menuturkan program-program go green yang telah dilakukan oleh UMY selama ini bukan hanya dilakukan di internal kampus saja tetapi juga dilaksanakan di eksternal kampus dengan mengajak warga masyarakat di wilayah Cangkringan dan Magelang untuk melakukan penghijauan pasca Erupsi Merapi beberapa tahun lalu. "Sementara untuk program di internal UMY sendiri antara lain penanaman ribuan bibit pohon, pencanangan kawasan bebas asap rokok, sistem pengolohan sampah terpadu, melakukan penelitian dan pengembangan tentang energi terbarukan, serta program baru yang sementara dijalankan yaitu pengurangan emisi gas buang dilingkungan kampus" ujarnya.
"Dalam menjalankan semua program ini tentunya melibatkan seluruh civitas akademika UMY yang terdiri dari dosen, pegawai dan mahasiswa yang disebut sebagai Satgas Hijau UMY. Beberapa kegiatan yang dilakukan antara lain penanaman bibit pohon, kampanye bahaya rokok pada mahasiswa serta beberapa penelitian yang dilakukan oleh dosen dan mahasiswa tentang energi terbarukan dengan demikian akan tercipta budaya peduli terhadap lingkungan khususnya di lingkungan kampus ini" tambahnya.
Penghargaan Green Campus ini akan terus dipertahankan melalui pengembangan program-program peduli lingkungan lainnya sehingga target dari go green campus UMY ini juga akan tercapai. "Selain itu nantinya akan tumbuh generasi-generasi yang akan melanjutkan program yang telah dibuat ini" pungkasnya.
Sumber berita: http://www.umy.ac.id/en/umy-terima-penghargaan-indonesian-green-award-2012.html